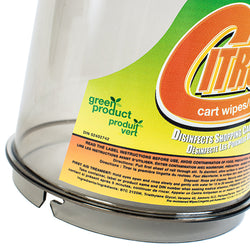 Convenient Locking Mechanism
The dispenser lid attaches to the mounting bracket with a simple twist. No fighting with latches or locks.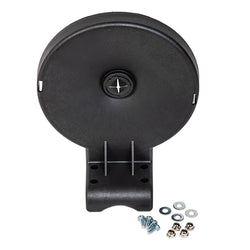 Hardware Included
The included mounting bracket and screws are a one-size fits all soluton that can be affixed directly to a wall or secured to the mounting stand for a freestanding dispenser.
Safety Considerations
Grocery stores may not be safe from infectious bacteria.
Repeated studies have shown potentially harmful organisms collecting on shared surfaces across a variety of stores.
72% Coliform Contamination
A 2012 study found that Coliforms were detected on 72% of tested carts and E. coli was found on 51% of tested carts.
View Study >
75% Harmful Bacteria
A 2017 study found that across 100 stores, 75% of the tested carts contained potentially harmful bacteria.
View Study >
41% Enterobacteria Contamination
A 2018 study found that across 85 shopping carts, enterobacteria were found on 35 carts (41.17%).
View Study >
Gentle Formula
Our CitrusWirx wipes are alcohol-free and gentle on hands. They incorporate Benzalkonium Chloride, Quaternary Ammonia as the active ingredient, listed as one of the most effective disinfectant ingredients against most viruses and bacteria.
Shop Residential
Tough on Germs
CitrusWirx Disinfecting Surface Wipes clean and kill 99.9% of germs and bacteria on hard surfaces as tested by an independent third-party laboratory. The wipes are made from a spunlace rayon material which naturally has good absorbency, strength, softness and is biodegradable.
Shop Commercial
1027 Industrial Place
St. Clements, Ontario
N0B2M0
Tel: 1-800-663-2803
Fax: 519-699-0027